Assistant Project Directors (APDs)
Assistant Project Directors
While report writing, scientific publication, grant writing, grant reporting and financing can be done from an armchair in the US, much of the work of sustaining SCP is done on the ground, in western Uganda. This challenging work has been done mostly by a long roster of Assistant Project Directors. APDs go into the forest to track chimpanzees almost every day. They gather and record data on chimpanzee behavior, they supervise local staff, they manage project money, they buy supplies, and they write monthly reports to keep the reserve warden informed about SCP activities. APDs are in turn assisted by a Camp Manager, a local employee who helps assign daily workloads for the porters, cooks, and assures that the camp grounds are maintained.
There have been 27 complete-tenure APDs at Semliki; that is, assistants who completed their six-month contract and contributed data to our longterm records.
Full Term APDs
Rachel Wei
ss served as the first APD, when accommodation was a tent, the kitchen was a tarp over the old lodge ruins, the shower was a bucket behind a grass barrier, and the toilet was even more primitive than the long drop outhouse typical in the bush. Trails had hardly begun, and she oversaw their development into the escarpment . She stayed eight months, September 1996 through May 1997.
Rachel is a graduate of Indiana University. Her first job was at the Yerkes Regional Primate Center, where she had been a chimpanzee caretaker. She found that the infection of a chimpanzee named Jerom with HIV, and his subsequent death, were so inhumane and cruel that she wanted a break from work. She felt observing chimpanzees in the wild might be both healing and in some way a tribute to the nobility Jerom displayed during his slow death. After Semliki, she attended law school, received a JD, and is now working at the Centers for Disease Control and Prevention.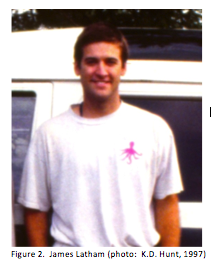 Jim Latham served as APD from September, 1997 to March, 1998, immediately after he graduated from UC Davis. He oversaw trail construction so that SCP staff began to be able to cover at least some of the miles of hiking required to track chimpanzees on paths. It was Latham who reported to Prof. Hunt that in March of 1998 a juvenile chimpanzee was speared on the top of the escarpment. Latham studies Spanish and is a published writer.
He is a Cultural Resources Management archaeologist in Reno, Nevada.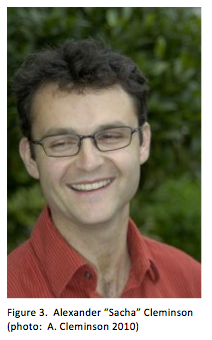 Sacha Cleminson averaged three hours of observation a month during his stint as APD between March and October of 1998, the first real uptick in observation hours since the project began, logging 28 days in the forest the very next month . Sadly, his tenure spanned the horrific murder of 65 students at the Kichwamba Technical School by the ADF terrorist group.
Cleminson is a graduate of the University of St. Andrews and Imperial College. He serves as Head of international biodiversity policy at The Royal Society for the Protection of Birds. Being the early days of SCP, Cleminson spent many hours on the trails without chimps, during which he fell in love with the forest and its inhabitants, observing river terrapins, forest elephants and many columns of determined ants. He is married to the APD who succeeded him, Esther Bertram.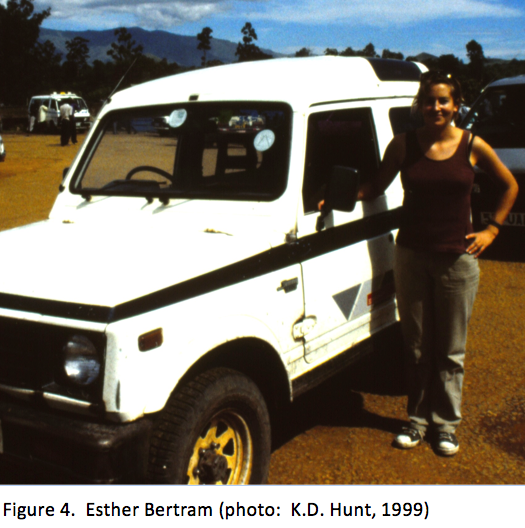 British national
Esther Bertram
served as APD from October 1998 thorugh May 1999. She is married to Sacha Cleminson. She was forced to leave her conservation NGO work in the Rwenzori Mountains when rebel insurgents disrupted the project.the domestic duties for which she was employed, she fell upon the opportunity to leave the Lodge kitchens and spend time in the forest. Suffering from large boils on many parts of her body including her eyes, she was fortunate enough to—quite literally—stumble across the first chimp drinking holes she ever saw; they were actually spotted by ranger Tuhairwe George, who could always see the chimps much better than she could anyway. Following Semliki, Esther went on to do a PhD in Antarctic tourism, and she now lectures on cruise ships visiting the area. She works for Fauna & Flora International in Cambridge.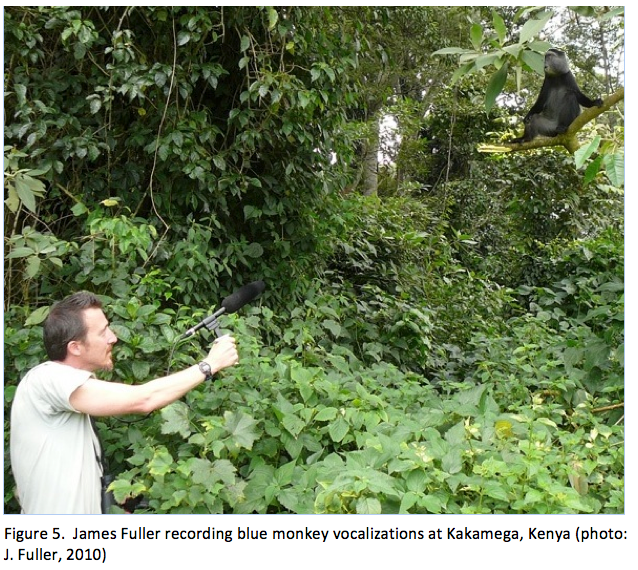 James Fuller arrived at Semliki in May of 1999, just as ADF rebels had killed four people at Kibale, south of the reserve. Undeterred, Fuller took on the monumental job of mapping the entire trail system and finished out his six month stint in the midst of sporadic gunfire in the forest. Fuller is a doctoral candidate in Evolutionary Primatology at Columbia University.
He is currently researching the evolution of primate vocal systems and is working on a comprehensive catalogue of the blue monkey vocal repertoire. Pyow!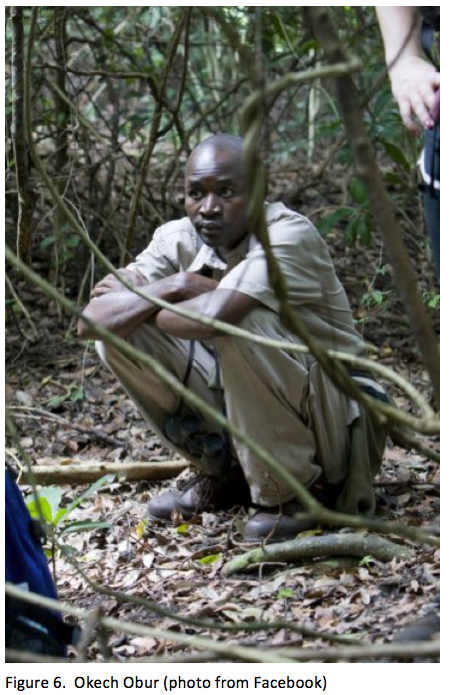 Okech Obur is the son of one of SCP's earliest employees, Esmail Obur. He was employed by the lodge, and he remained in the reserve during the unstable days in 2000 when ADF rebels infested western Uganda. While untrained in primate observation, he stepped in from July to December 2000 and kept the project afloat during this difficult time. He is employed as a tour guide and travels widely in East Africa.
Teague OíMara served at Semliki from May 14 through November 14, 2001, just after a year and a half of military action in the reserve had reduced SCP activity to a minimum. While Ugandan authorities believed was rid at last of the rebels who had disturbed research, on August 20 rebels were seen in the reserve, and OíMara was evacuated. There was a further battle between the Ugandan army (the UPDF) and ADF rebels, the seriousness of which we could not determine. It may have been particularly intense because observations dropped from 6 hours in July to 17 minutes in September. Just as observations picked up in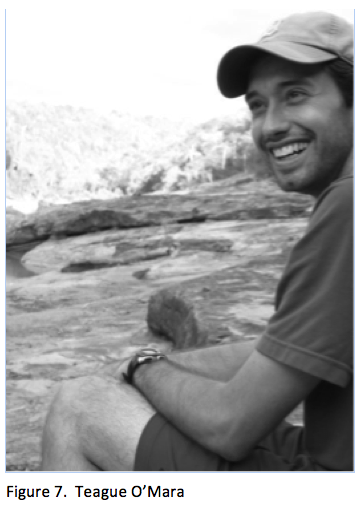 November, another battle was fought. This time the UPDF brought in heavier firepower and fired mortars from the rift floor into the chimpanzee range on the escarpment. OíMara had an exciting time at Semliki. He is now conducting research at Gamboa, Panama as he works toward his PhD at Arizona State University. He is investigating how infants and juveniles exploit social information during foraging.

Christopher Wade served in Semliki from July to December, 2002. He followed two APDs who were ineffective, but managed to stabilize the project after the long military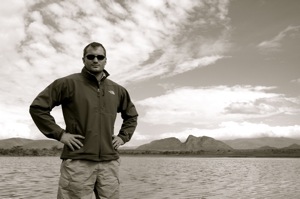 engagements that may have affected chimpanzee behaivor. Observations stayed stubbornly low, averaging less than three hours a month, and inexplicably dropping to a shocking low of three minutes in November. Wade, a U.S. citizen, has spent a number of years in Kenya since moving there at the age of 15 in 1996. In addition to his interest in primates, he developed a keen interest in ornithology during his stint at Semliki, where he first observed the African pitta, bar-tailed trogon, and the Narina trogon while searching for chimps along the Mugiri River area of the reserve. Wade currently works for the International Organization for Migration in Nairobi, Kenya, where he has lived since 2003, and worked in the fields of refugee resettlement operations since 2004. He is a Kenya Professional Safari Guides Association (KPSGA) Silver Level Guide and sits on the examination committee of the KPSGA. He will enter a Masters program in Australia combining the study of environment and development in Feburary 2012.
David MacGregor Inglis served from December 2002 to June of 2003 after achieving his BA in Equine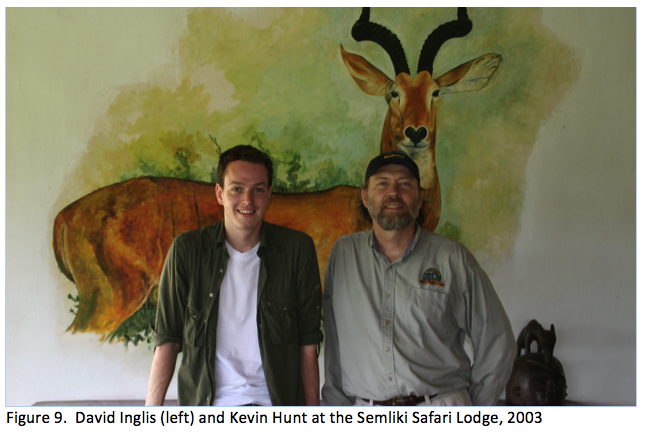 Science at Imperial College London. During his stint at Semliki, observations of chimpanzees improved to five hours a month, and in March he logged 9 hours. Following his stay at Semliki he volunteered to study the sexual behavior of Soay sheep that reside on one of the remote islands in the St Kilda Archipeligo, Scotland. Returning to primates and Uganda—this time Kibale National Park—he studied the feeding and vigilance behavior of red-tailed monkeys for his MRes qualification at Roehampton University, London. Continuing his studies at this University, he is currently finishing up a PhD in Anthropology studying primate social communication that involved collecting data on a troop of olive baboons in Gashaka Gumti National Park, Nigeria. He lives in Saint-Germain-en-Laye, France.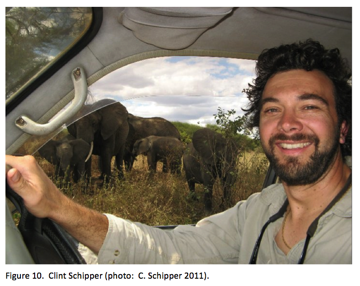 Australian Clint Schipper, while not officially an APD, worked for the project for over six months supervising research camp construction. He worked very nearly for free at a desparate time when money was short. His considerable organizational skill gave us the camp we have today. Schipper has had a life long fascination with natural history. Schipper has a Zoology Degree with Honors from La Trobe University, Melbourne. He worked for the Flora and Fauna Department, Department of Natural Resources and Environment, Victoria, then he served as the ornithologist on a biological expedition to Papua New Guinea. He has worked in East Africa since 2000, first as a volunteer chimpanzee care giver, then as Uganda Wildlife Authority work-shop trainer, Fishing Guide, Safari Guide and finally Lodge Manager. He has published a number of papers in internationally recognized scientific journals. Schipper is currently a specialist wildlife and bird watching guide, as well as managing director of Kuro Expeditions in Tanzania.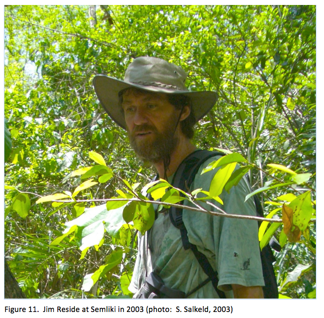 Jim Reside became the first Assistant to live in research camp full-time, beginning in November, 2004. During his tenure he built a kitchen/dining room structure, erected a third tent, installed a water collection system, installed solar panels, built a permanent toilet, and put in a shower. His work brought the camp infrastructure up to full functionality. The establishment of a permanent research station in the chimpanzee range, not to mention Resideís great energy, brought observations up to nearly 10 hours of observation a month, double the observations of the previous six months.
Reside has (and had before he came to work for SCP) extensive experience in conservation areas in Australia. He now works for Wildlife
Assistant Carmen Vidal came to Semliki in June, 2005 and quickly began to log more hours in the forest than anyone previous and perhaps since. While Iíve tried to go easy on statistics in these profiles, hers merit a mention. She achieved project maxima for two of our four most important objective measures of habituation. She averaged 25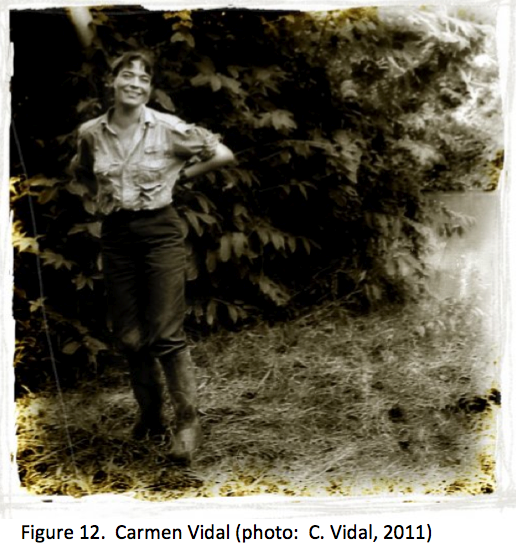 hours of observation per month over her six-month tenure (including 40 hours in July, 2005), and she searched on average a staggering 30 days a month. She observed chimpanzees and average of 22 days a month; she discovered chimpanzees 65% of her attempts.
Carmen is a veterinarian by training, and has worked with primate refuges and rescue centers in several countries. She lives Lwiro, South Kivu, Congo.
Jess Tombs served SCP from February-July 2006. Tombs oversaw the construction of thatch canopies over the tents, a luxury that shields us from the intense sun and the lashing rain that can occur during the wet season. Prior to Semliki she worked briefly at Simon Bearderís noctural primate research group, and before that she managed the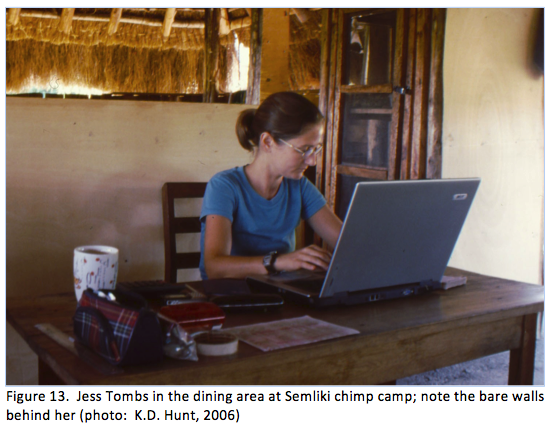 H.E.L.P. Chimpanzee Sanctuary.
Tombs has served as a film researcher and is now a freelance film producer. She has produced or co-produced a long list of film productions on primates and many other subjects.

Alissa Jordan's term as APD ran from July to Dec 2006. Although it was more of a sustaining-effort time for the project, it's not always easy to sustain, and she did sustain observation hours, as well as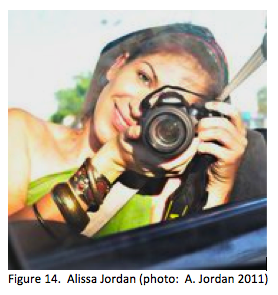 everything else. It seems a small thing, but SCP staff still think of her when they see the beautiful painting she did on the walls in the kitchen/dining area. She went on to study at the University of Chicago, and is pursuing her PhD in the University of Florida Anthropology Department.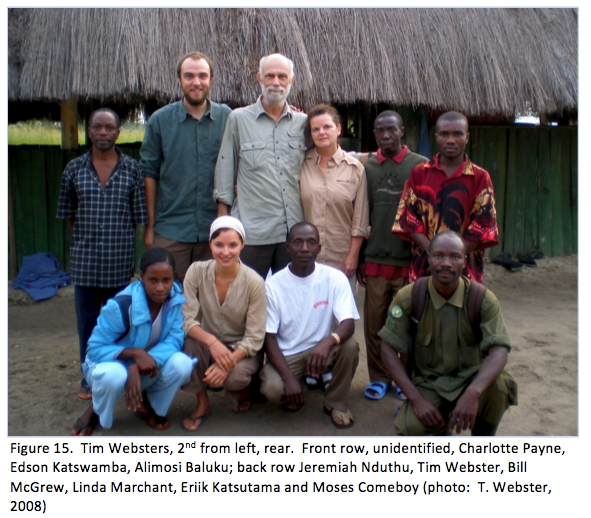 Tim Webster served as APD from late May through November, 2008. During his tenure camp was more crowded and busier than any time previous. As many as a dozen people were in camp at one time, and Webster served as much as coordinator as chimp tracker. It paid off. During his tenure, both hours of observation and search times hit record highs. August, 2008 SCP staff observed chimpanzees over 70 hours, three hours per contact. Webster received a PhD from Yale University in 2015 and in now an assistant professor at the University of Utah.
Maggie Hirschauer took over as APD on July 1, 2009. On July 13 Hunt and Hirschauer worked in tandem to follow a feeding party for 10 hours, losing them at 5:47, about two hours before nesting. Under Hirschauer's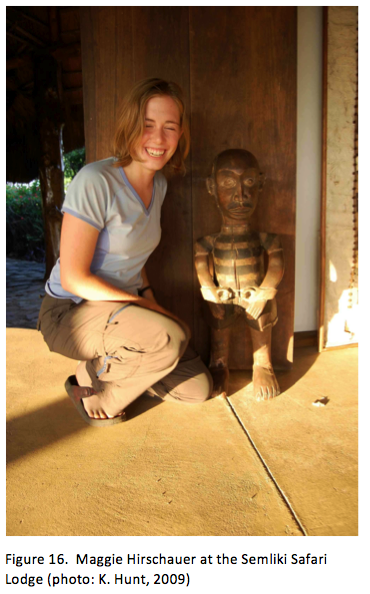 direction, observation hours rose to levels near those in 2008, when we had 3 and 4 researchers searching each day. She is now living in Kenya where she manages Kakamega Monkey Project documenting blue monkey social behavior. She plans on pursuing a career in avian conservation.
APD Caroline Deimel arrived in January 2010 just as Project Director Hunt arrived for a short visit. The two observed two males in a tamarind tree for an hour, unusual because tamarinds are found in open habitats where Semliki chimps have been very skittish in the past. Two new males were identified during Huntís brief visit, bringing the total to 23. By the end of Deimelís tenure 26 had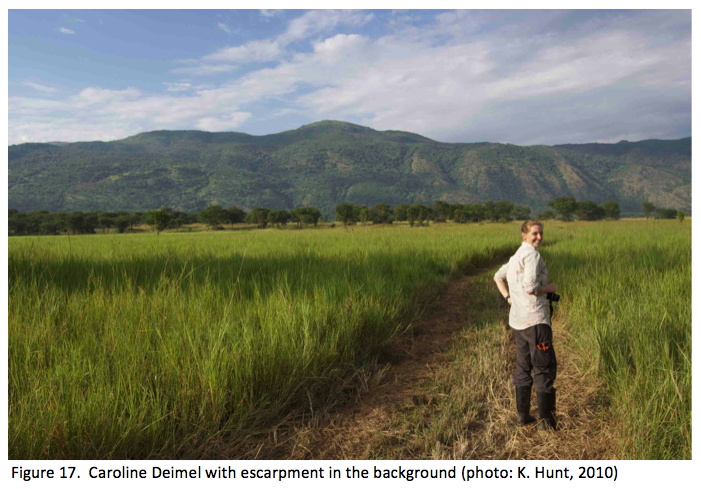 been identified. During Deimelís tenure, hours of observation rose to 18 ½ per month. On March 28, Deimel came within a hairs-breadth of the nest-to-nest follow, logging 11 hours and following an individual from 7:15 to 6:05. Deimel is now a doctoral candidate at Indiana University.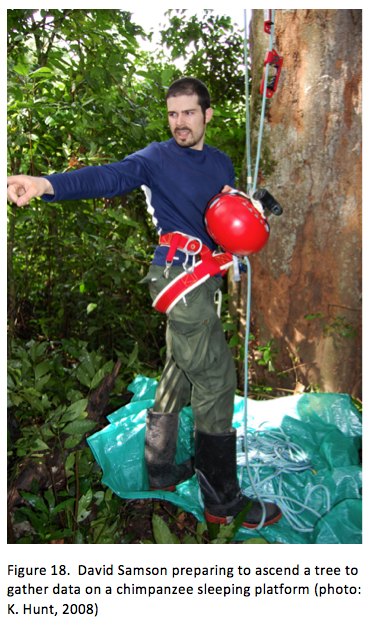 David Samson served as APD July through December, 2011, assisted by Holly Green. The pair reached observation hours never before achieved, nearly to the point where we can claim the chimpanzees are habituated. Samson has a BA, MA and PhD from Indiana University. His research concerns sleep patterns and nesting behavior in great apes. He is an associate professor at the University of Toronto, Mississauga.
British national Will Symes served as APD from April 15-October 14, 2011. He was particularly busy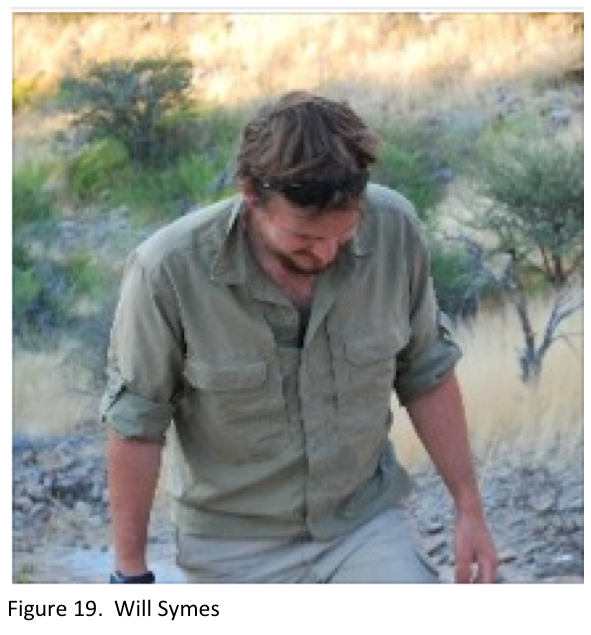 in July when SCP had a crowd matching that overseen by Tim Webster in 2008. There were six volunteers in camp at one time, among them Joel Bray, Abby Kearny, Hector Manthorpe and Austin Senteney, in addition to our four staff, a ranger and Symes himself.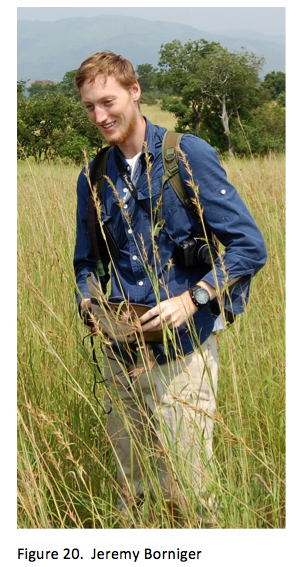 Jeremy Borniger earned a PhD in neuroscience in 2017 at Ohio State University. Jeremy was a Postdoctoral Fellow at Stanford for two years and is now an assistant professor at Cold Spring Harbor. Although he is not technically a full term APD since he only signed up for a little over two months, from May to July, 2012, but he made the biggest impression in the shortest amount of time of any APD. Thanks, Jeremy, and happy journey in the neuroscience world.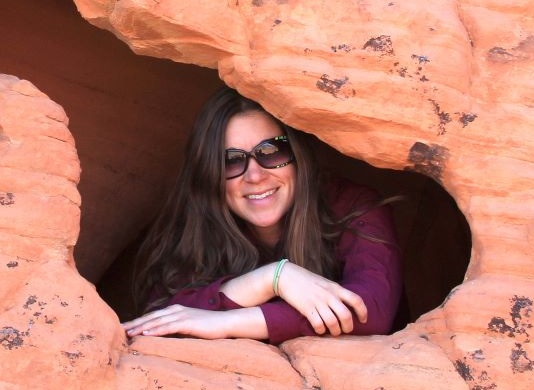 Corey MItchell served as APD at Semliki the first half of 2013. Corey received a BS in zoology from the University of Wisconsin in 2006. While chimpanzees are a new primate for Corey, she has extensive experience in primate research. She was the Field Manager for the the Kakamega Blue Monkey Project in Kenya in 2008 and 2008. She was a Field Assistant at the Lomas Barbudal Capuchin Monkey Project in Costa Rica in 2006 and 2007, and she served as a volunteer in Talek Borneo with the Proboscis Monkey Project, among other naturalist and conservationist activities.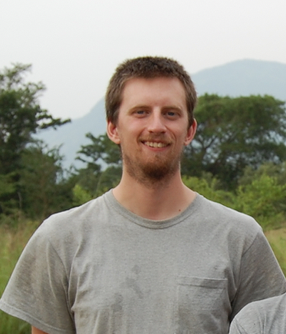 Luke Louden's APD term was from late May to November, 2014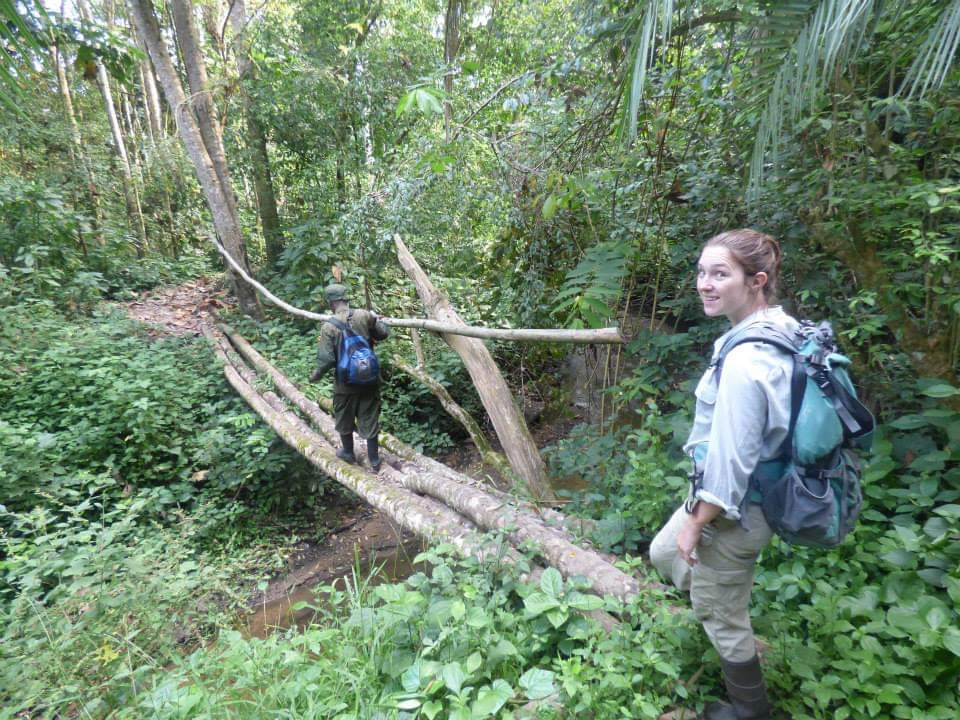 Katie Gerstner
was APD from November, 2014 through early May, 2015. She is a biology alum from Illinois State University, class of Ď14. where she met Dr. Hunt after he gave a talk about the Semliki Chimpanzee Project to her department. After graduation, she began working for SCP later that fall. She earned a Masters in anthropology at Wayne State University in Detroit studying chimpanzee nutrition. Currently she is a research intern for the Lester E. Fisher Center for the Study and Conservation of Apes at Lincoln Park Zoo in Chicago, and holds a chair on the board for the American Society of Primatologists. She plans to acquire a PhD in biological anthropology to study nutrition evolution and behavior in primates.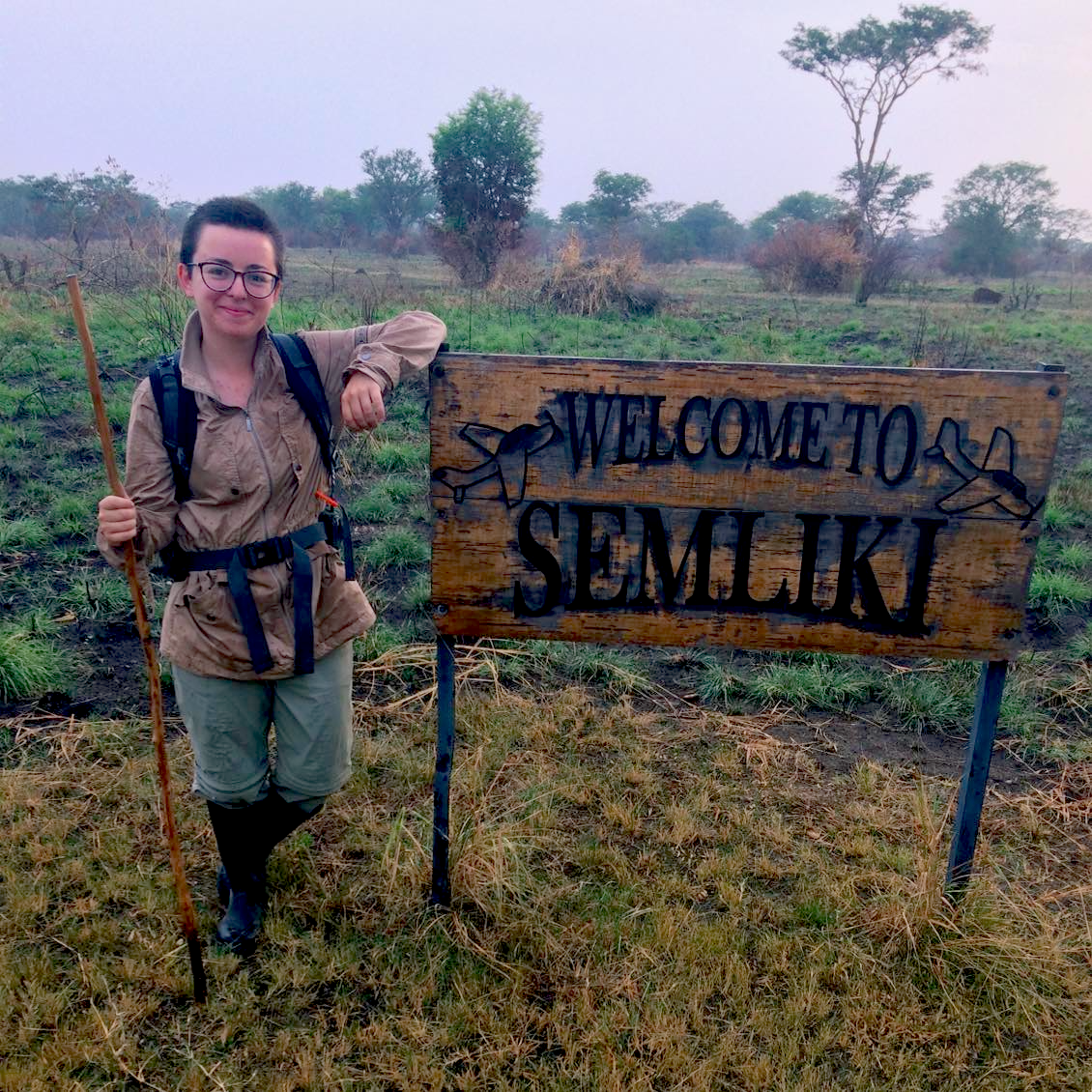 Jaycee Chapman served as APD at Semliki from January 2019 through July 2019. She received her BA from Indiana University in May 2018 in anthropology with minors in animal behavior and Japanese language. She volunteered briefly at Jungle Friends Primate Sanctuary upon graduating and moving to Florida, where she spent most of her time observing capuchins in the rehabilitation process. She knew she would prefer studying primates in the wild and working abroad, so she promptly took the opportunity to be APD at Semliki the following winter. Jaycee is currently an online ESL teacher and taking Swahili language courses while preparing to begin a Masterís program in library science and African studies in the spring.