How to get to the Toro-Semliki Wildlife Reserve, Uganda
As you prepare to land in Entebbe you'll be given an entry card to fill out; you'll need your passport and airticket information to fill that out. Once on the ground, just follow the crowd as you exit the airplane and they'll lead you downstairs to an entrance visa queue. There will be two lines, one for returning "Residents," and one for "Others." You want to be in the 'Others' line. Have your passport and $50 ready.
Make sure you get a receipt; if you're asking to be reimbursed by SCP or just about any US university you must have a receipt to be reimbursed.
At the "Others" desk you'll be asked what you're doing in Uganda. You are visiting friends in Fort Portal and may volunteer to work at the Toro-Semliki Wildlife Reserve. You plan to visit some national parks, perhaps Semliki National Park, Queen Elizabeth National Park and/or the Toro-Semliki Wildlife Reserve. If your return ticket is 3 or six months later, they may ask about that; you may volunteer at one of the conservation areas, and so you've dated your ticket for later, just in case.
S/he may ask you for the name of your contacts. Your contact is: Kevin Hunt, address P.O. Box 665, Fort Portal. After this quizzing, the custom's official will stamp your passport with, more than likely, a one-month visa. When you renew your visa later you will say that you're volunteering at Semliki.
Continue into the terminal where you'll see a baggage claim area with a carousel, much like that in Europe or the US (although sometimes it isn't working). After claiming your bags, you'll move on toward the exit where your luggage may be searched, though that's rare these days. After that you'll move through another door, ultimately finding yourself in the lobby of the airport.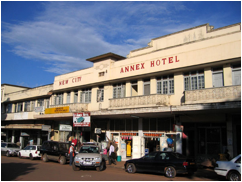 Almost right in front of you, when you come out of the customs area, there's a foreign exchange (FOREX) where you will change money. You'll want to change at least $50 right off, but the rate isn't very good at the airport. It's 2500 Ugandan shillings or more per dollar these days, but it's much less at the airport. It's pretty easy to keep track of prices: if somebody asks you for 50,000 shillings, divide by 1,000 (yielding 50), and then again by two—that's $25. The best exchange rates are for cash in the form of $50 or $100 bills. You will find much lower rates for $20's or travelers checks.
Now you have to get the approximately 15 miles from Entebbe to Kampala. You may be lucky enough to have struck up a conversation with someone on the airplane who has offered you a ride into town. Or, if you've made a reservation at a hotel you prefer, you will have asked them beforehand to pick you up, which they will do for a high but not outrageous price. If you stay at my hotel of preference, you'll have to get a taxi to Kampala.
Exiting the lower level you'll come upon a mass of taxis and hawkers trying to draw you into their taxi. You just have to choose one. Ask about the price before you choose. I always ask a couple of folks and choose the cheaper one. It costs about $20 or $30 (i.e., something like 50,000/=, though I manage 30,000/= now and then).
These days, folks from my team have been staying at New City Annex Hotel, on DeWinton Street, near the National Theater. It's inexpensive, arount 20,000/=, or about $10 a night for a 'non-self-contained.' That means the bathroom and shower are down the hall. I don't find having a bathroom and shower in the room remotely worth it. Note that the restaurant in New City is not cheap. The hotel is near the Café Pap coffeehouse to the west, which has inexpensive wireless internet, and the Garden City Mall to the east, where lots of ex-pats hang out.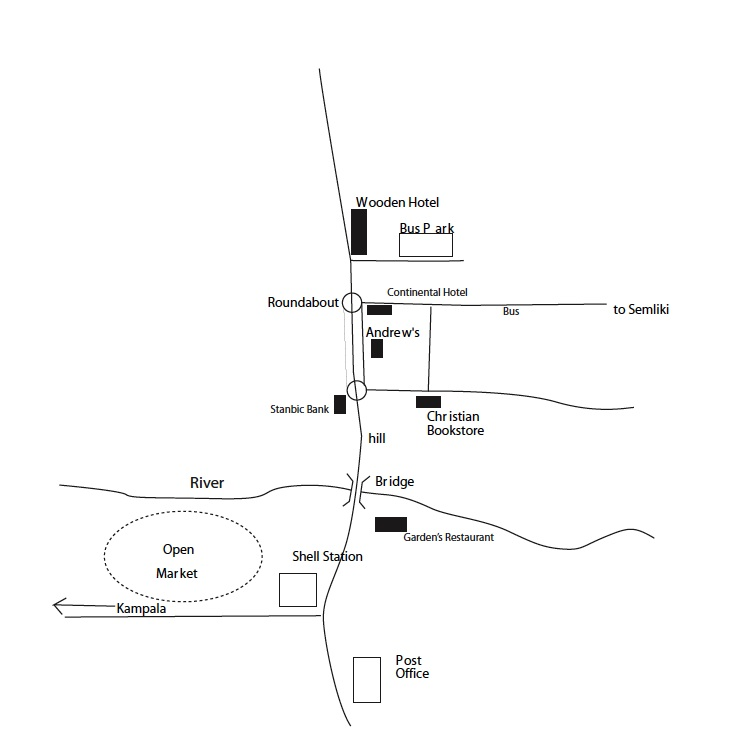 The next day or perhaps the day after you'll make your way to Fort Portal. You may want to do some shopping first. If you continue downhill (east) on DeWinton Street, then take a left, you'll see two malls, the Garden City mall and Nakumatt. Both are great fun. We have a phone for the project, but if you want your own they cost about US $40 at the MTN store in Garden City. You'll see many CyberCafes around Kampala, where you can check your email if you need to. My e-mail is kdhunt@indiana.edu.
You'll be taking a bus to Fort Portal from the city bus park. You can ask the hotel staff to call for a taxi to take you out to the taxi park. Ask them how much it'll be at the desk, or you will be overcharged. It'll cost something like 10-20,000/=. I think I paid less than 10,000/= the last time I made the trip. Tell your taxi driver you want to find a bus to Fort Portal. He'll take you to an area where there are big, somewhat poorly maintained buses and 'matatus' (14 passenger vans). I much prefer the large buses. They're faster, cooler, less crowded, and cheaper.
The bus will probably stop halfway to Fort Portal at a town called Mubende where street vendors will rush up to the bus to try to sell you drinks, shishkebobs of chicken, beef etc., and my favorite, chapatis (sort of like a flour tortilla). Most people eat these without adverse effects. If you buy a soda, they'll have to have the bottle back, so they'll hover around until you finish.
It takes about 6 hours to get to Fort Portal, according to how much road repair there is. When you arrive you'll be deposited at the taxi park. From there you'll wander out toward a main road, and move toward Andrew and Bros. store. If you're spending the night, I recommend the "Continental Hotel," the cheapest hotel near the center of town. It's less than $7 a night, if you don't need to take a 'self-contained' room. I never do, and unless you're having gastrointestinal problems, it's not worth it. It's definitely African, though. The Ruwenzori Rest, just nearby, is more expensive; if I'm not paying for your hotel, or if you're exhausted and in culture shock, that may be an option.
It's pretty safe to walk around town. At least, you won't be mugged—there are pickpockets, though not many, and plenty of street urchins who will pick up anything you set down, so be a little watchful. A good place to buy things is Andrew and Bros. Andrew himself is a nice guy, though very busy these days.
You might want wander around town and explore. Hot food (temperature hot, I mean) is okay to eat, but anything else is a risk—I know a lot of people who have gotten amoebic dysentery.
If you head out to Semliki immediately there are three ways to do that. The chimp vehicle was wrecked recently, so that's not an option right now. With that option out, the next easiest means is to catch a ride with the Semliki Safari Lodge vehicle, which you can reliably find at Andrew and Bros. on Wednesdays. If the lodge doesn't have room for you, or it's not a Wednesday, there are two choices. You can take public transportation to Karagutu, but you must pre-arrange to have someone from camp pick you up in Karagutu. To get to Semliki this way, go to the taxi park and find a matatu (minibus taxi) going to the town of BUNDIBUGYO. You must tell the driver you want to get off at KARAGUTU. Karagutu is the town at the entrance to the reserve. At Karagutu you'll get off where the road "T"s and look for your arranged ride. If you take a right at the T you go to Semliki; straight ahead, Bundibugyo.
The other alternative is to hire a taxi to take you all the way to camp. It's about 60,000/=, or US $30, so it's expensive, but not outrageous. If you're starting to feel exhausted by now, you should do that. If you're having trouble, you can just ask to go to the Lodge, and once you get there someone from chimp camp can pick you up.
If anything goes wrong, you can call the project phone at 0784 053 302. You will look for a bright yellow MTN kiosk, and there you can buy a phone card to call.
If you need to call home, you must dial the international dialing code for the US, which in Uganda is 0001, followed by the area code and number.
My fax number, then, is 0001 812 855 4358.
The most reliable way to reach me, if you buy a phone, or once you get hold of the project phone, is by texting my cell; the number is 0001 812 202 1565.
My office number is 0001 812 855 3857
The Lodge phone is 0772 707 007